If you know about Makino frames, then i dont need to tell you how beautiful their work is, or that they are part of a select group of top tier frame producers for the professional keirin circuit.
Makino frames have great attention to detail and the lugwork is absolutely amazing!
Makino was an assistant of the great master builder Yoshi Konno. Konno produced 3Rensho frames until a tragic car accident which left him paralyzed, Makino continued producing frames under the 3Rensho name until about 1998 when he split off and began his own shop making Makino Frames. (note: another notable assistant of Konno is
Koichi Yamaguchi
. Yamaguichi offers a 2 week frame building class at his shop in Rifle, Colorado)
heres some of his work..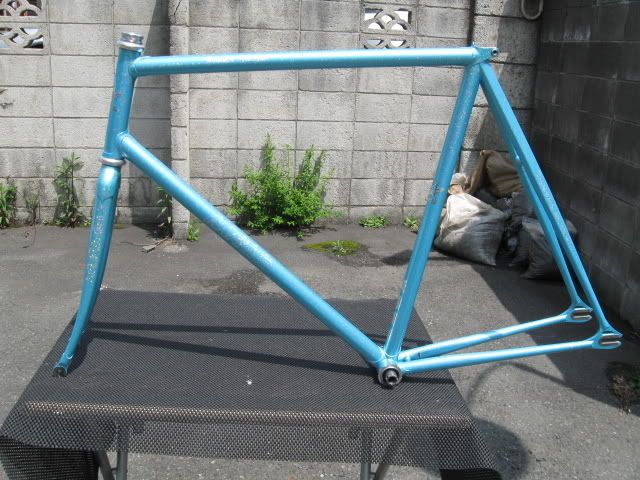 If your salivating for more, go on over to
njs-keirin.blogspot.com
hes got a ton great looking keirin frames with detailed pictures bu also a sizable collection of makino's.
But if your flush with cash, and want the best track frame around then these Built to order Custom makino's at
thebikebiz.com,
are where its at. Ridiculous quality and attention to detail !
The frames above vary in age and style, but the standard setup on the new ones looks more like this.
Lugged dropouts, and lugged seatstay bridge are nice touches. I imagine they offer different fork options like flat top, or aero. Same with seatpost lug choices, not to mention any color combination you can think of. Kalavinka is also known for offering custom made to order frames, but about a year ago they put a message on their website saying they would no longer take new orders. So besides njs-keirin.blogspot.com who takes orders for georama, and njsframes.blogspot.com who does custom ocean frames, this is really the only other place to get a custom made to order njs keirin frame (Ocean is not njs, but kusaka did vivalvo until they lost njs about a year ago. Vivalvos were very widely used so i would still consider his work high quality).
If youve got a makino build or some sweet pics please share them with me in the comments section.